New floral stamps lessen winter blues
I confess: I buy pretty postage stamps and save them in a drawer. My informal collection mainly contains floral postage stamps produced by the United States Postal Service. I was especially happy to add the new
Botanical Art Forever stamps
to my collection earlier last week.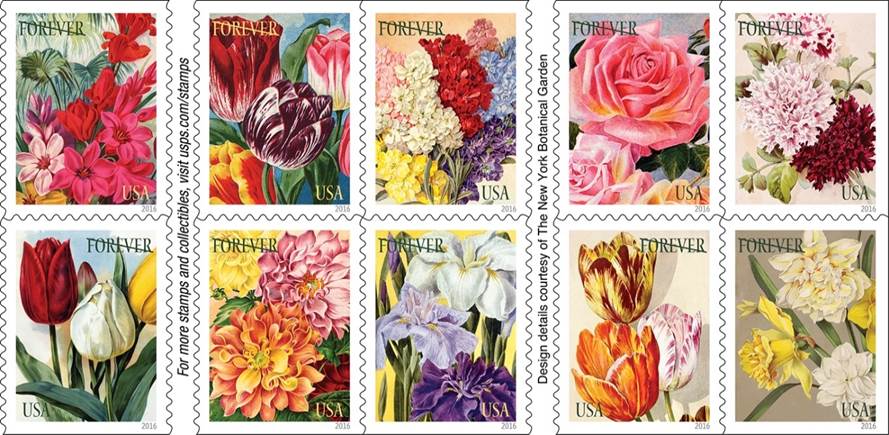 Botanical Art Forever Stamps from the USPS.
I bought a few extra stamps - which include images of tulips, roses, dahlias, daffodils, corn lilies, stocks, petunias and Japanese irises - to use on correspondence in the coming months.
The New York Botanical Garden (NYBG) provided the historical botanical illustrations for the stamps. The 10 designs feature illustrations from an American nursery catalog printed between 1891 and 1912. (The catalog is part of the Nursery and Seed Catalog Collection at the
NYBG's LuEsther T. Mertz Library
- the largest botanical and horticultural library in the world.)
According to the
NYBG
, as early as the 15th century, botanical illustrators produced highly detailed images to depict plants discovered by explorers during expansion and unknown in Europe. As the popularity of ornamental and recreational gardening grew in the mid-19th century, commercial greenhouses and nurseries marketed plants by creating colorful catalogs illustrated with idealized, romantic illustrations of what plants could look like. Botanical illustrations in plant catalogs are more scarce today, with photographs of the plants being used instead.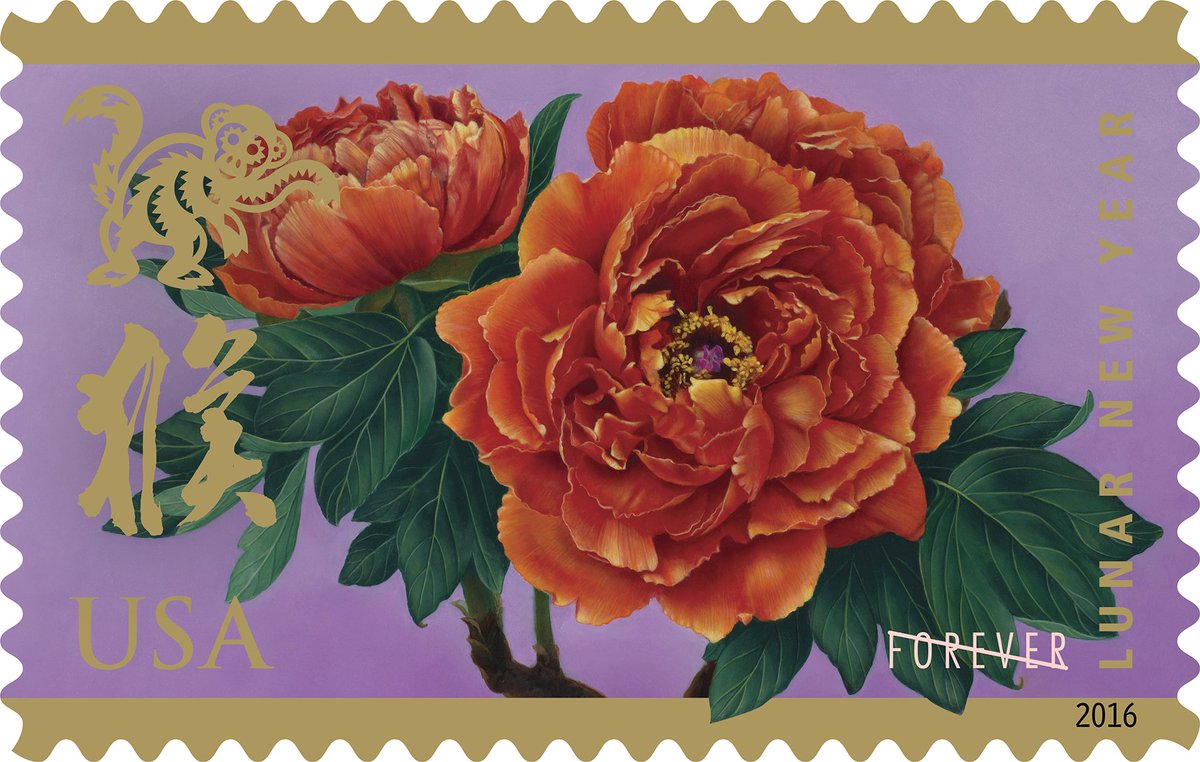 Year of the Monkey Forever stamp from the USPS.
The botanical images are not the only flower-themed stamps introduced this year by the USPS. The
Year of the Monkey Forever stamp
contains an illustration of two red peonies, which symbolize wealth and honor in Chinese culture. According to the
USPS
, artist Kam Mak was inspired by Chinese tree peonies in his garden. "I hope the painting will evoke a sense of renewal and the coming of spring," he said in a press release promoting the sale of the stamp.
Time to head back to the post office to get these beauties as well.